Emergency HOT Number
119 (24 hours)
.
|| medical | security | fire | earthquake | typhoon | report ||
Medical Emergency
Medical Emergency Numbers + Aids
24 hours: 119
Health Center (08:00-17:00 only): 3366-9595
AED: Astro.-Math. Building 1st floor.
Transfer Hospitals of Health Center
Tri-Service General Hospital, Tingjhou Branch(三軍總醫院汀州院區):

No.40, Sec.3, Tingjhou Rd., Taipei City 100, Taiwan (R.O.C) 
(臺北市汀州路三段40號)
Telephone:+886-2-2365-9055

National Taiwan University Hospital (臺大醫院):

No.7, Chung Shan S. Rd.(Zhongshan S. Rd.), Taipei City 10002, Taiwan (R.O.C.)
(臺北市中山南路7號)
Telephone:+886-2-2312-3456
Related Links
Security Emergency
Security Emergency Numbers + Aids
Security Unit of NTU: 33669110 or 33662185-6
Student Safety Division: 33669119
NTU Emergency Phone Map (Security section). Especially, there are four near Astro.-Math. Building:

Graduate Institute of Oceanography (near Astro.-Math. Building)
Shih-Liang Hall 1st floor
By Drunken Moon Lake (near the Cafe by the Mathematics Research Center Building)
By Drunken Moon Lake (near Basketball Court)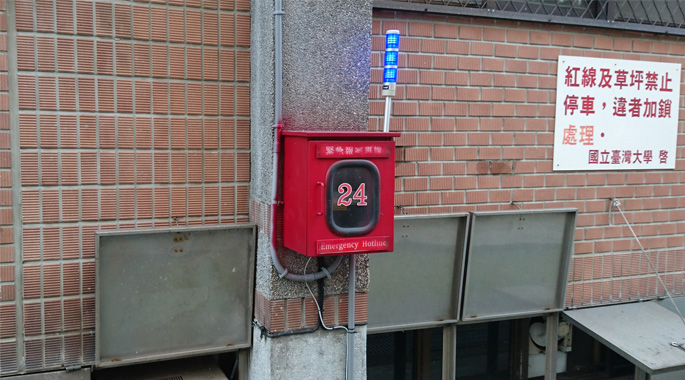 24hr Emergency phone. Pick up the phone, just ONE TOUCH.。
Fire
If the fire started at or near your office, contact the department staff (3366-2814 in day time) as well as warm anyone near fire area to help or evacuate. If the fire is too large, JUST EVACUATE!
If the fire alarms sound:
JUST EVACUATE the building!
DON'T USE the elevator.
Calmly leave through the closest exit (review the nearest exit beforehand). If the smoke is dense, kneel down and crawl to evacuate. PUT YOUR HEAD LOW.
Go to the EVACUATE POINT between the Astro.-Math. Bulding and the lake, reporting to emergency team for person statistics check.
Listen for instructions from the emergency broadcasting, floor coordinator or the fire fighters.
If you cannot exit, go to a room with a window, close the door, open the window, block the smoke and signal firefighters.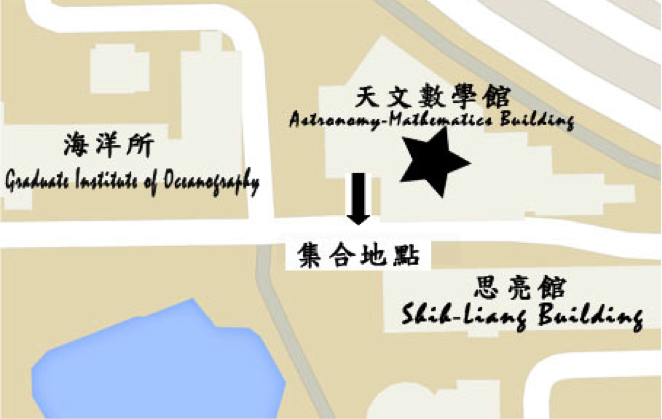 Evacuation point.
Room Exit Maps
For exit directions, alarm pulls and extinguisher locations near you, please see below. Also there is exit map near the elevator foe each floor.
1st floor, 2nd floor , 3rd floor, 4th floor, 5th floor.
Building evacuation facilities:1. fire extinguisher;2. escape sling;3. indoor hydrant: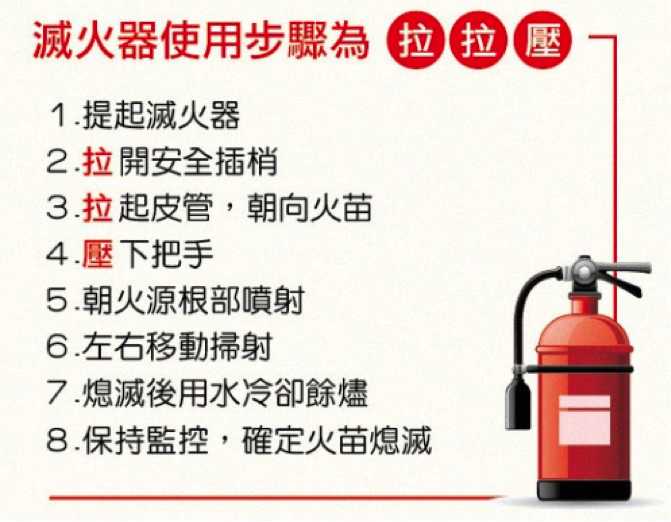 Usage of a fire extinguisher.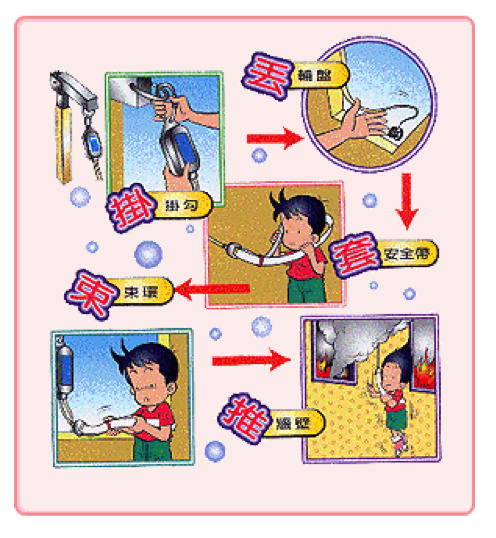 Usage of an escape sling.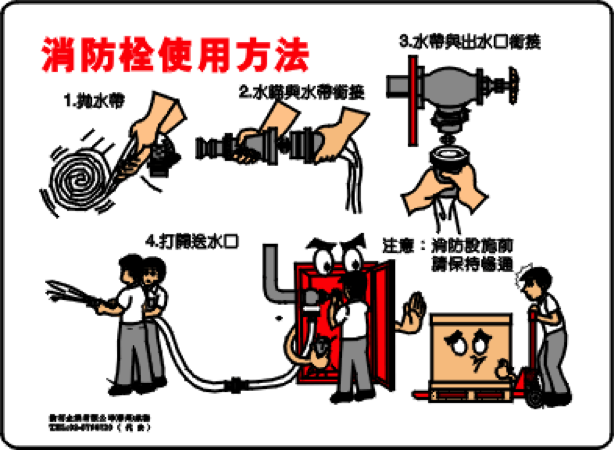 Usage of an indoor hydrant.
Earthquake
When there is an earthquake, remember the 3 tips:
Drop down

: low down you body for into shield.

Cover

: protect your head.

Hold on

: hold on yourself and the desk (or any shield).
WHERE you are:
Indoor: Find shield; or keep near to beam column or wall. Protect your head away from anything falling down.
Outdoor: Being away from building, tree, wall or anything dangerous. Find cover, drop down and protect your head. Keep away from anything falling down.
Inside elevator: When there were an earthquake, elevator would stop normal operation, stop by the nearest floor and open the door automatically. If the door could not open, CALM DOWN, use the emergency phone or bell inside elevator for help. DON'T try to open the door by yourself.
Typhoon
Keep stay inside the (Astro.-Math.) building and leave away from the region near outdoor area. Don't go out.
Keep your window close.
Don't misjudge by the wind strength only. Consult the Central Weather Bureau for the status of the typhoon.
When you go out after the typhoon just leaved, be careful on the fallen trees, lamps, electric wires and etc. on the road.
Typhoon status: Central Weather Bureau.
Emergency Report
Emergency Reporting Numbers
Call the following number to report the emergency. (Please specify the where and what clearly ):
Department Office (08:00-17:00): 3366-2814
Security Unit of NTU: 3366-9110
Student Safety Division: 3366-9119
NTU Environmental Protection Center: 3366-2003
Office of International Affairs : 3366-2007